Having grown up in a house where there were full-sized Christmas trees in the livingroom and kitchen, 4 ft. trees in each bedroom, as well as the bay window in the dining room, and decorated pine trees outside, I've always been surrounded by holiday decorations in excess. While admittedly I've never been a very religious person, I've always loved the feel of the whole holiday season. The warmth of the lights and the hot cocoa or mulled cider, the smell of freshly baked cookies or clove-covered oranges hung by ribbons, snowball fights and snow angels outside while the Christmas lights reflect off the snow, carols playing in the background while people joyfully sing along all set the stage for the season. I've always loved the reds and greens and decorations all around.
With Christmas around the corner, I wanted to make my babies a holiday cage set that was whimsical and festive, yet practical. I've been thoroughly bitten by the Christmas bug for years, so there was no way to do anything on a small scale. Having a hammock or two, some vines and a pouch in Christmas colors or prints just wouldn't cut it for me. In the past, my children have joked about my decorations looking like "Christmas threw up" and have jokingly played games where the first one to find part of the tree under all the ornaments won. Do I go overboard with holidays? Of course - but that is just me. If you're going to make a statement, you might as well go all out and scream it from the hilltops. I love the holidays and subtle is not a word often used with me.
Instead of the traditional sparse cage set up most sugar glider owners go with for their babies, I wanted to make their cage into a holiday scene. Christmas would be up all around them and I hated the idea of them not being able to partake in it themselves. With the wires, lights, sharp hooks, glass ornaments and all the other jazz holiday decorations are made of all around, there was no way they could really enjoy the Christmas decorations I had around except from afar. That just would not do. They needed their own Christmas tree and decorations.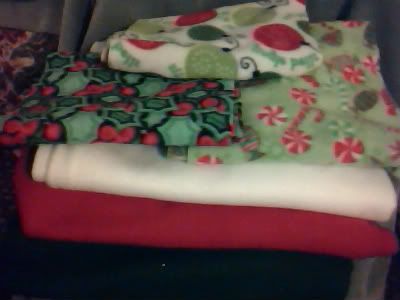 I started out with a stack of fleece, some plastic canvas for shaping, some ribbon and bows and other odds and ends. I got 2 yards of dark green, 1 yard of both white and red, a quarter yard of three different Christmas prints for accents, and some random colored fleece scraps from previous cage sets. Then I began sketching and planning, trying to imagine all that I would love to have in their little Christmas room. My cage design seemed so elaborate that I began wondering if I bit off more than I could chew. Lille by little, I began sewing.

My first piece was a decorated Christmas tree that was a double layered modified pyramid pouch. By the time it was done, the Christmas bug was back buzzing in my ear, inspiring me not to give up and to embrace my vision and create, create, create. Next, I made a fleece present with a cubby in back for them to sit in, and a snowman shelf seat for them to climb on.


Piece by piece, the cage set was coming together. Somehow, it didn't seem so overwhelming anymore. I made a 3 and a half foot Christmas tree with 4 tiers of twisted fleece strips. There was a variety of pouches for sleeping in, from the Christmas tree to a wreath to a stocking. There were ornaments for the tree with foraging pockets for hiding treats and overstuffed fleece presents they could go inside and play. Around their stealth wheel, I made a fireplace and mantle, complete with garland and bows. Under their tree was a variety of presents. For days, I sewed. When everything was made and hung up, it was like Christmas morning had arrived inside their cage.
The top and bottom of their cage: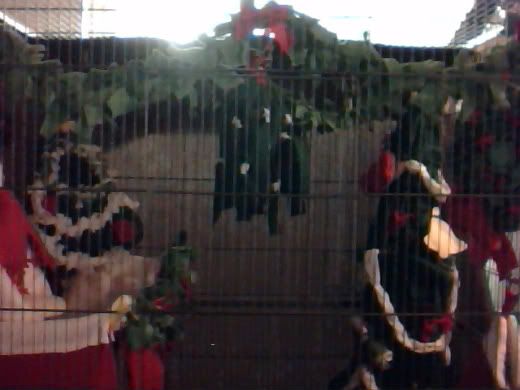 Here's the tree top and one of the foraging ornaments (and the side of the mistletoe ball swing):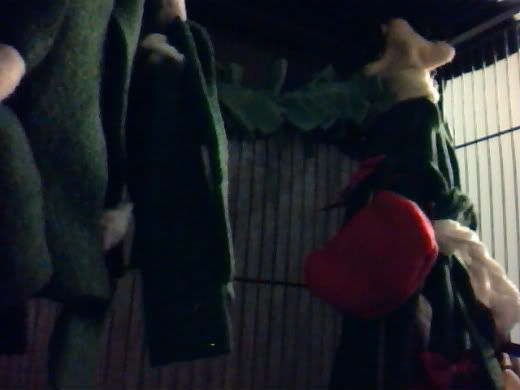 The wreath pouch: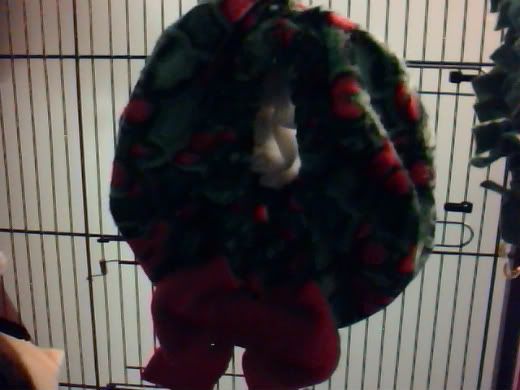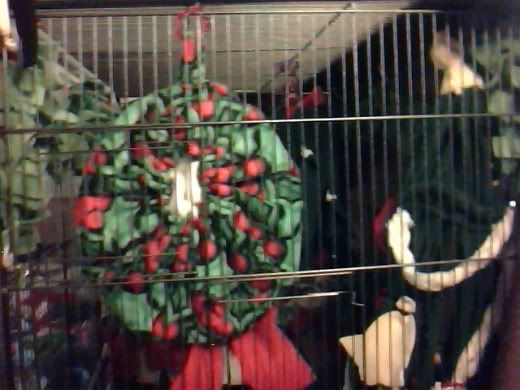 Here's the fleece fireplace with the wheel in the center: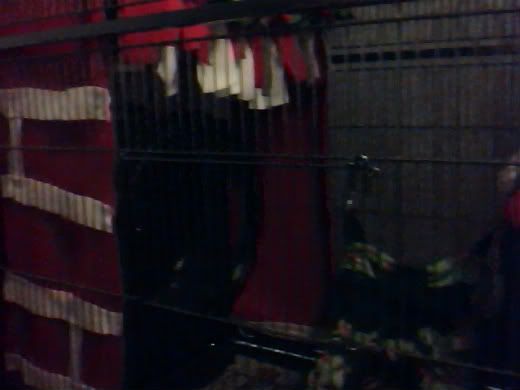 Here's the fireplace mantle hammock:
Here's the stocking pouch on the side of the tree: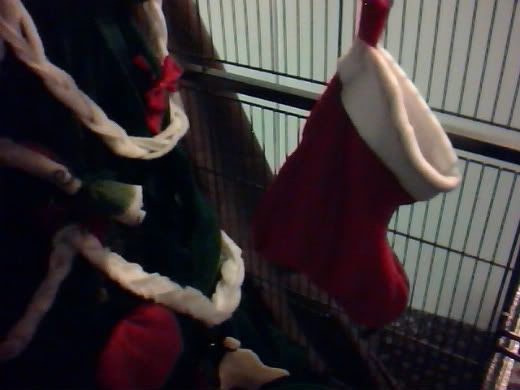 Here's another pic of the bottom of the cage with the big green cube present (with my babies peeking out) and santa bucket with fleece scraps and craft pompoms: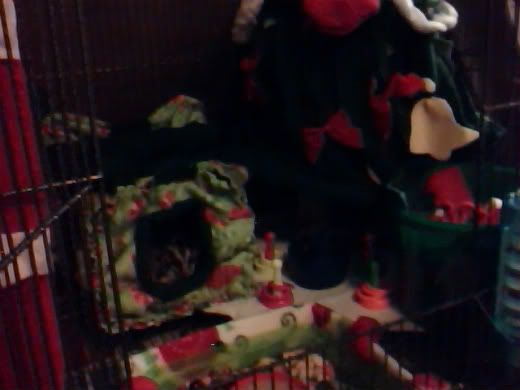 Here's another pic of the green gift cube (with Stitchy peeking out):

Here's their food dish with the xmas present border around it:

Here's a pic of the present with the back cubby: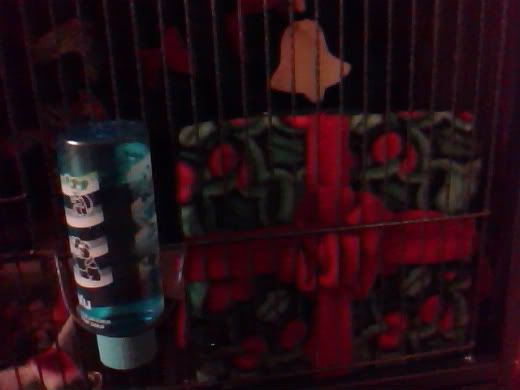 I honestly couldn't be happier with how their cage set came out. This will be their first Christmas. Is it a little bit overly festive and flashy, but of course. Maybe Christmas did throw up ll over their cage. But this is not only their first Christmas, but our first Christmas together, as well. Might as well go all out and celebrate in style.